Carbon Fiber Testing - EddyCus® CF BW series
Basis Weight Measurement
+

Inline monitoring & offline mapping capability

+

Without contact

+

At high local resolution

+

Monitoring via network

+

Time stamp & trigger controlled

+

Instant results
Carbon Fiber Testing
The EddyCus® CF inline BW as well as the EddyCus® CF map 4040BW are especially designed for non-contact monitoring local basis weight variations of carbon fiber fabrics. By using the EddyCus® CF inline BW, several lanes can be controlled. Consequently, the entire web of carbon non-wovens or UD tapes can be monitored during the production process. The EddyCus® CF map 4040BW scans carbon fiber fabrics with a local resolution of 1x1 mm² to display the uniformity of carbon fiber volume (basis weight map). Preforms can also be mapped regarding local grammage deviations. In sum, the EddyCus® systems can provide interesting insights on intermediate and recycled carbon fiber products.
Software & Handling
The EddyCus® CF control provides modules for data depiction, data storage, and data review. The system is connected to an industrial computer or MES via Ethernet, RS 232, or RS 485 connection for data exchange.
Real-time depiction of basis weight

Integration of panel to depict measurement values at any location

Direct communication via TCP/IP to MES or via software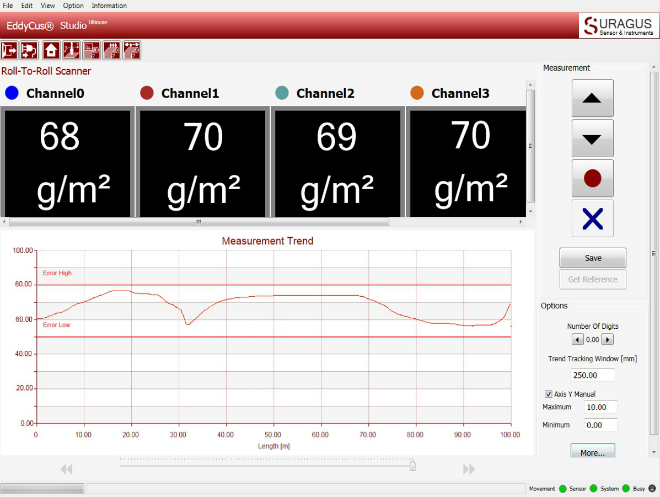 Testing Devices
EddyCus® CF inline BW
EddyCus® inline BW measures carbon fiber basis weight or carbon fiber volume and can be used for the quality assurance and monitoring process of carbon fiber materials in ex-/in-vacuo industrial production lines.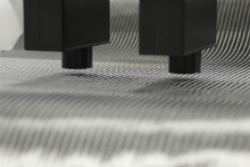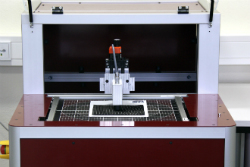 Performance & Setup
| | |
| --- | --- |
| | EddyCus® CF inline BW |
| Sample rate | 1 – 500 samples/sec/lane |
| Measurement / Scanning area | 1 – 99 sensors across entire web width |
| Fluttering tolerance | ± 1 mm (higher on request) |
| Interface | e.g. ethernet, profibus |
| Required space | Small (approx. 300 mm in production line) |
| Mode | Process control, quality report |
| Carbon fiber materials | CF-non-wovens, CF-fleece, CF UD-tapes, CF non-crimp fabrics (NCF), flat CF preforms, conductive coatings |
| | |
| --- | --- |
| | EddyCus® CF map 4040BW |
| Measurement | Uniformity of basis weight, CF density, CF volume fraction |
| Scan area | 400 x 400 mm² |
| Min. pitch | 1 mm |
| Speed | 400 mm/sec (full scan: X min) |
| Add-ons | Camera for positioning, distance sensor for thickness |
| Device dimensions (w/h/d) | 700 x 1,070 x 1,100 mm |