Testing of Carbon Fiber Fabrics, Preforms and Composites by EddyCus® CF Series
The technology is especially designed for non-destructive and non-contact evaluation of carbon fiber materials without the use of coupling media. The NDT is applicable to both composites and dry carbon fiber fabrics. Three main cases are:
Analyzing structural parameters of hidden CF layers

Identifying defects & effects in CF stacks

Determining local grammage of CF fabrics without contact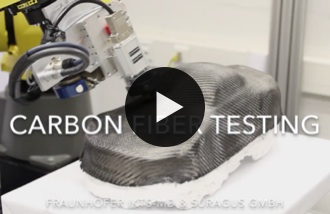 More about the innovative NDT for Carbon Fibers
Quality Assurance For Carbon Fibers
ANALYZING STRUCTURE
DETERMINING LOCAL GRAMMAGE
DETECTING DEFECTS
High frequency eddy current testing is the only technology to investigate fiber orientation, spacing, and distribution of hidden CF layers without contact or spacious equipment.
More Information
As a novel approach, the EddyCus® CF inline systems can be used to monitor local basis weight variations of carbon fiber textiles during the production process. Several lanes can be controlled or preforms mapped regarding local grammage deviations.
More Information
The EddyCus® CF series can be used to detect textural defects within multiple carbon fiber plies. These comprise distortion, misalignments, wrinkles, overlaps, gaps, undulations, impacts, and delaminations.
More Information
Carbon Fiber Testing Equipment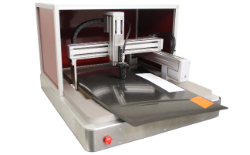 EddyCus® CF map 4040
Research labs and R&D centers for composites and textiles are using the EddyCus® CF map 4040 to scan small to medium sized samples such as flat CF textiles, slightly slanted preforms, or cured CFRP panels. The EC-scan visualizes fiber structure of a multi-axial lay-up and can, therefore, assist to investigate the stacking, draping, and injection process in which fiber bundles might shift due to mechanical interaction.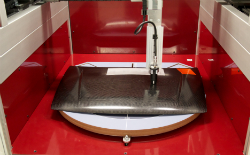 EddyCus® CF map 6060
The automotive and aerospace industry are using the EddyCus® CF map 6060 to perform spot-check inspection and process optimization of dry preforms or cured CFRP parts. The quick test at regions of interest allows the companies to check quality specifications at critical locations. Rather than classical NDT methods, the novel electrical method allows to focus on defects in the fiber structure, e.g. misalignment, wrinkles, or distortion can, therefore, be avoided.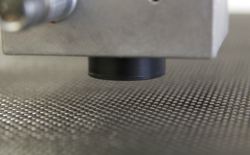 EddyCus® CF inline
Fabrics manufacturers and equipment suppliers apply the EddyCus® CF inline for offline mapping and inline monitoring of the basis weight of carbon fabrics. Reasons are the non-contact, small-scale and flexible setups for online process control. This is particularly relevant for UD-tapes or multi-axial fabrics and carbon fiber fleece. It has also potential to characterize the quality of recycled fibers.